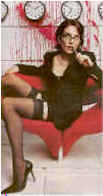 TV critics haven't been making any "Saturday Night Dead" jokes lately, and for that Lorne Michaels can thank Tina Fey. After being named the first female head writer on Saturday Night Live, in 1999, this season Fey has kept that gig and also moved into the "Weekend Update" anchor chair, alongside Jimmy Fallon, and established herself as a breath of fresh, caustic air-and a thinking man's sex symbol. Fey is like the prettiest girl in honors English-smart enough to be devastatingly funny, and if she'd just take off those glasses...no, leave them on. They work.
Fey, who grew up in the Philadelphia suburb of Upper Darby, claims she was never all that funny as a kid. "'Quite sarcastic' I think would be the description," she says. She performed and wrote with Chicago's Second City before moving to SNL as a writer in 1997. Her performing was limited to the stage play Dratch and Fey with Rachel Dratch, who also jumped from Second City to SNL. That show led Michaels, SNL's paterfamilias, to ask her to read for the anchor role. "It was intimidating," says Fey, "but I strive for at least not being the worst person who's ever done it." Not likely-some of us remember Brian Doyle-Murray-as long as she can deliver such lines as , "It was announced that Ricky Martin will perform at the Lincoln Memorial as part of President Bush's inauguration. Apparantly, Mr. Bush's first step in restoring the dignity of the presidency is having a soap star sing 'She Bangs' at the foot of the Great Emancipator."
As for Fey's deep sexual connection with Fallon, she says, "It's so deep you can barely see it. No, he's delightful because he wants everyone on the show to kill-not just his stuff. Your stuff too." You can kill us any time, Tina.