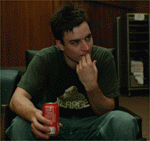 A modest Jimmy Fallon entertains ND crowd
By JOHN HUSTON
Scene Writer

Jimmy Fallon is a rising star. As a cast member of Saturday Night Live, he has begun to get more prominent roles since he joined the show in 1998.
As per norm with television stars, obtaining an interview was difficult — at first. His agent wasn't very good about returning phone calls but did mention the hotel where Fallon planned to stay when he visited Notre Dame for a Saturday performance at the Hesburgh Library Auditorium.
A call to the front desk at about 4:30 p.m. Saturday quickly got transferred to Fallon's room where a groggy "hello?" answered. He was taking a nap, but politely said, "It's no big deal," and scheduled an interview for later.
Jimmy Fallon may indeed be a rising star, but his feet are firmly planted on the ground.
A line of people trying to get tickets began to form in the library lobby over an hour before Fallon's 8 p.m. performance. The show sold out quickly, and many were turned away.
"I feel bad for the people that couldn't get in, but hey, we're in here," Fallon said after he took the stage. "Tell them about it, I guess."
Fallon has two weeks off from SNL and is doing a college tour to brush up on his stand-up in preparation for an upcoming comedy record, that will be similar to the one Chris Rock recently released.
Fallon's tour has already taken him to University of Virginia, Michigan and Iowa – all of which were "awesome" shows.
"I'm preparing myself for a bomb," he told The Observer after the show.
His 45-minute performance showcased many of the impersonations of celebrities and musical artists that he has perfected, many of which have been used on SNL.
His comedy career got started when in college at St. Rose, a Catholic school in Albany, NY, where he was a computer science major. He would meet a buddy in the laundry room; they'd make each other laugh and then write it down in a notebook. They asked the "powers that be" at school if they could put on a show. They did an hour-long presentation of material.
"We sold out, it was awesome," he said of the first show. The duo pulled in $50 for the gig, and Fallon recalled thinking to himself, "Wow, this is amazing! Twenty-five apiece, man — beer money!"
His next performance yielded $500, and the prices have increased ever since. He started booking himself at other New York colleges, making the drives on the weekends.
"I'm a horrible driver," he said. "My dad taught me, and he sucks. We're from Brooklyn, so there's not much need to drive."
After a stint with the improv/sketch comedy group "The Groundlings" in Los Angeles, he moved back to New York to work on Saturday Night Live in September 1998.
SNL pays well, Fallon said, but not as much as the average person would think. Still, the two-week college tour is not to pad his salary.
"This is totally for fun," he said. "This isn't for money. I never cared about money."
In fact, Fallon said that if his acting career doesn't pan out, he has something to fall back on – living with his parents.
"I could work at the post office," he said. His parents had already had him take the exam, he added. So much for that computer science degree St. Rose gave him.
Fallon's future looks pretty bright, so he won't be "going postal" any time soon. He has a role in the upcoming Cameron Crowe movie, provisionally titled "Stillwater," which is set for release in October.
Fallon's main job right now is SNL. He and his fellow cast member Horatio Sanz, who joined the cast the same season as Fallon, share an office and have already appeared in several skits together.
"He's awesome, man. He's crazy," Fallon said.
The two love the freedom of being able to come up with zany skits, and having the money of NBC behind the show to be able to build the set and provide the costumes. It's like Christmas each week.
"I mean, we could write a skit about a man who lives in this seat-cushion," Fallon said, grabbing the chair beneath him. "You can do anything you want, the whole thing is great."
Saturday night, Fallon delivered many of his dead-on impersonations for which he is most known, including Jerry Seinfeld, Adam Sandler, Gilbert Godfried, Chris Rock, Cliff Clavin, as well as music impressions of U2, Alanis Morissette, Blink-182 and the Fugees, among others.
"I was always singing into the mirror at home," he explained.
He said his first impersonation was at age two of James Cagney. "My mom has a tape of me saying, `You dirty rat.' It's so cool," he said.
Despite being SNL's seemingly brightest star, popularity frightens the impeccably humble Fallon.
"I don't want to be too big," he said. "I don't want to blow up."
He doesn't like doing interviews. He seemed to regret having done a recent interview with Rolling Stone, because "obviously people are going to read it," he said. He doesn't even like going on the Late Show with David Letterman or Late Night with Conan O'Brien, though he loves both shows. "I get too nervous."
"Besides," he said, "I'm not a good interview, am I?"
Whether or not that's true, and even though he uses "awesome" or "amazing" to describe just about everything, his good natured and positive attitude is apparent. He comes off as friendly, genuine and enthusiastic.
During his Saturday night performance, he mentioned high school. Someone in the back of the auditorium yelled, "Yeah, Saugerties!"
"You went to Saugerties?" Fallon asked.
"Yeah!"
"We'll talk later, I'm kinda busy now."
Judging by the crowd's response to the show, Fallon will be busy for quite some time.